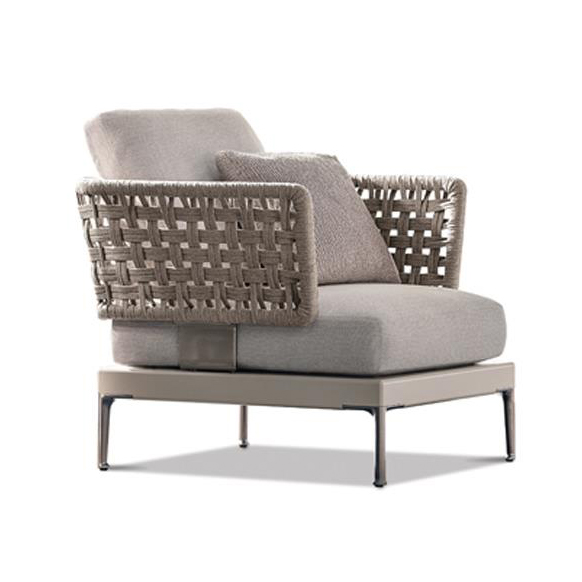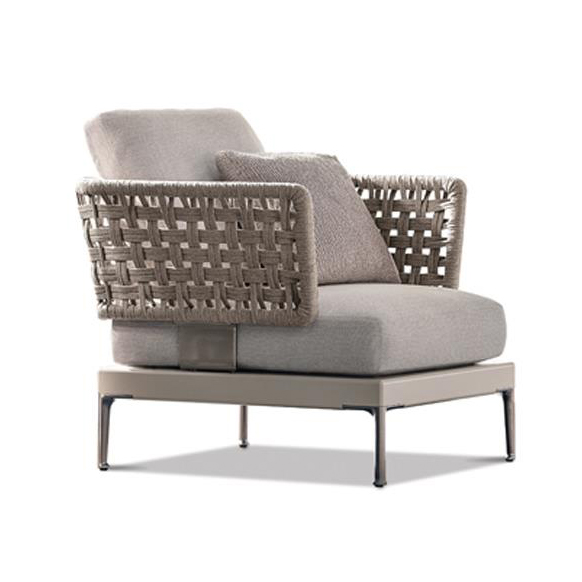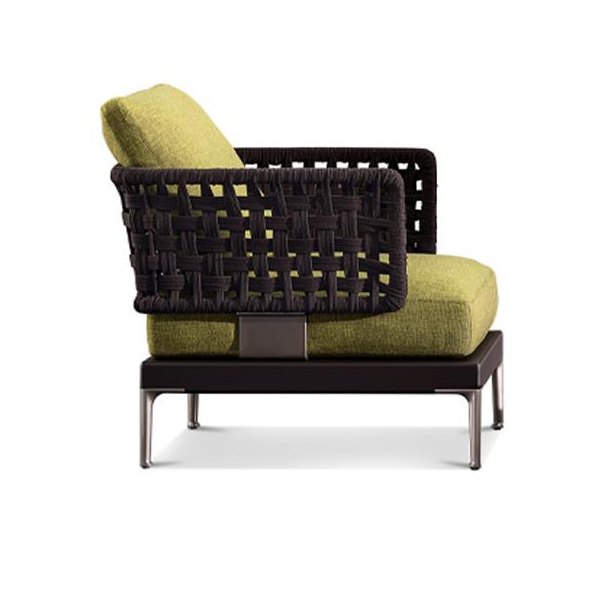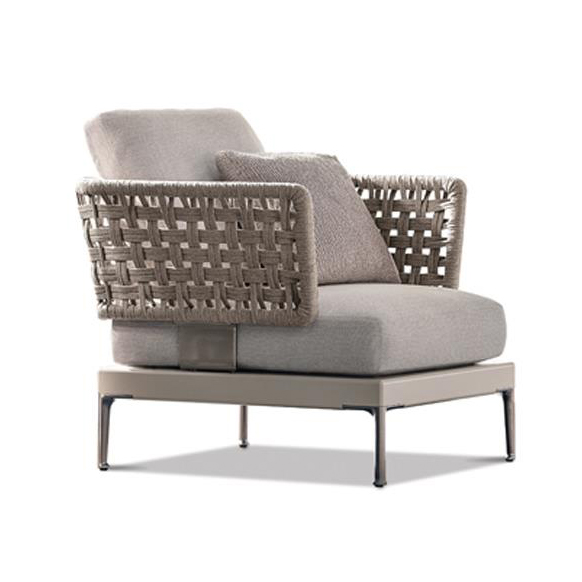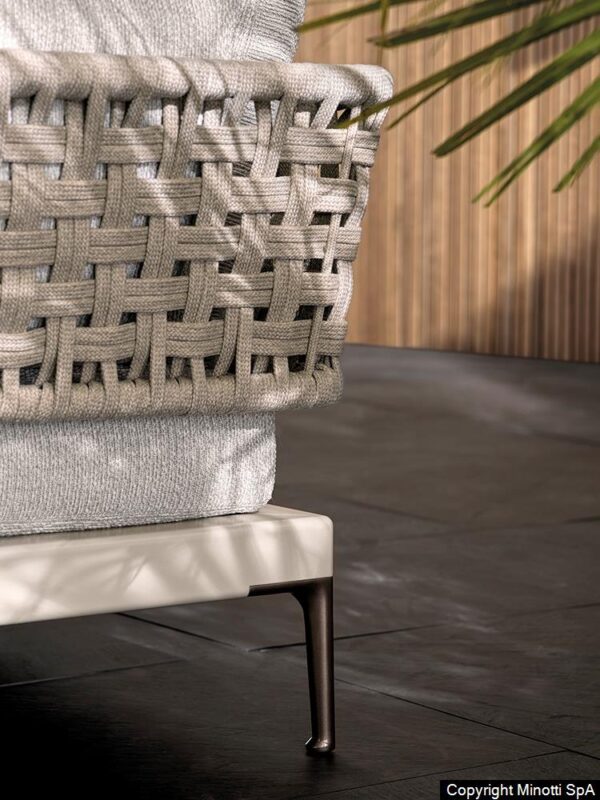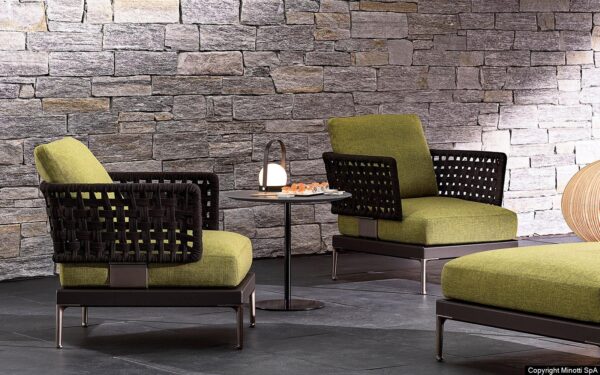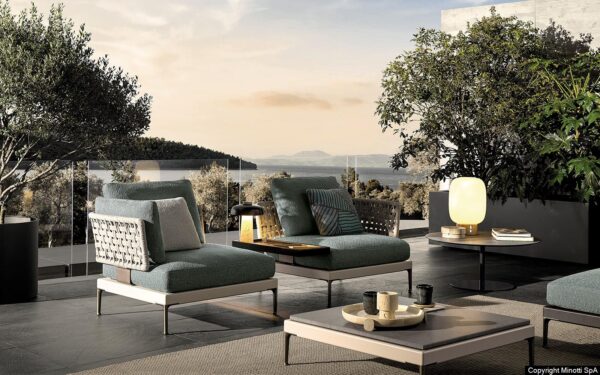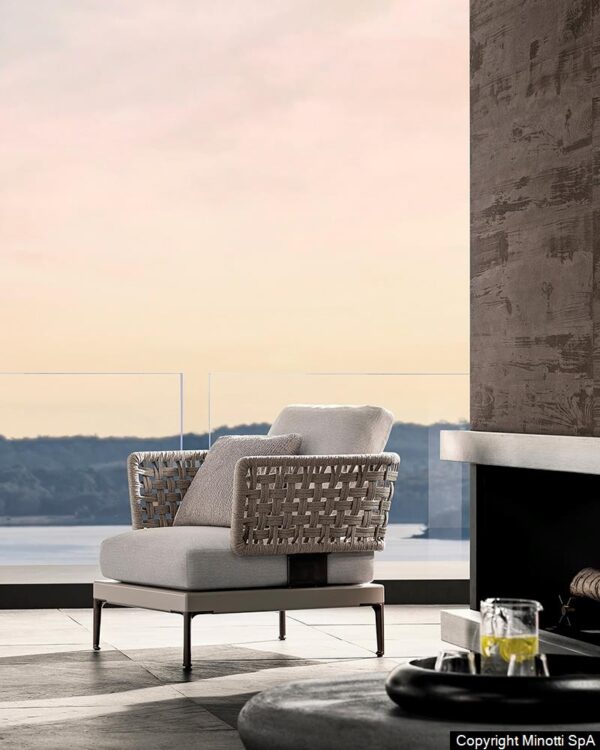 Patio Outdoor hægindastóll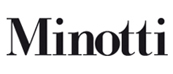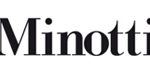 Vantar þig aðstoð eða ráðleggingar?
Having explored the use of woods, such as iroko and teak, with Patio, designed by Italian-Danish studio GamFratesi, Minotti proposes an unexpected mix of different materials: aluminium, wood, stone, cord. The outdoor seating system, with its highly versatile modularity, is conceived as a dynamic mosaic, composed of tesserae in simple geometric shapes, which can be pieced together as desired, and reconfigured to suit the available space and the mood to be created. The design of the sofa base structure enables the back elements to be arranged in various set positions all along the perimeter, to design conversation, relaxation, and vis-à-vis areas, spacing out the seats with coffee tables, and complementing them with ottomans and benches. A solution capable of meeting the requirements of both small metropolitan terraces, and extensive outdoor spaces, thanks to the two depths: 83 and 98 cm. The variety of potential compositions becomes even more interesting when the selected materials are masterfully combined: the extruded aluminium base with matt finish in the shades of Ecru and Dark Brown is accompanied by steel backrests, covered in woven polypropylene cord in the same shades, according to a Scandinavian-type geometric design. Some of the seating elements feature a handy tray in Dark Brown stained solid mahogany or in natural teak, with grooves for draining water, attached to the structure. Patio offers an interesting range of furnishing accessories, from coffee tables with top in brushed fine-grain Basaltina stone, benches, and square and rectangular ottomans with extruded aluminium base, in a creative mix of materic textures and sophisticated, natural colours. The system offers a rich variety of sofas in different measurements and configurations, in addition to central and end units, armchairs, loveseat, and double daybeds. All the elements share the same feet and the same joints at the back in die-cast aluminium, varnished with a refined polished, anti-touch Bronze finish.
Vörunúmer: min-patiohaesp
GamFratesi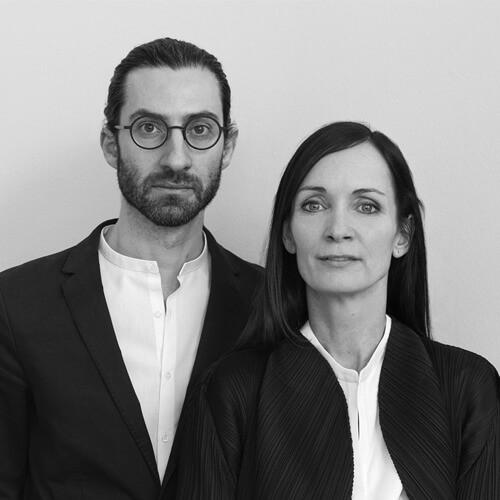 GamFratesi's design takes its creative drive from a fusion of tradition and renewal and in an experimental approach to their chosen materials and techniques. With their dual traditional background, Stine Gam and Enrico Fratesi draw on the classic Danish furniture and craft tradition as well as the classic Italian intellectual and conceptual approach. Understanding a tradition and addressing it actively in the workshop makes it possible to expand on it. From this cross-cultural substrate they create furniture that respectfully reflects tradition while also featuring unique embedded stories, symbols and associations, often expressed in a minimalist idiom. GamFratesi aim to create furniture that illustrates the process and the techniques that created it, and which reflect a persistent exploration of the diverse border zone between harmony and disharmony. Gamfratesi studio was founded in 2006 by danish architect Stine Gam and italian architect Enrico Fratesi. the studio is based in Copenhagen.