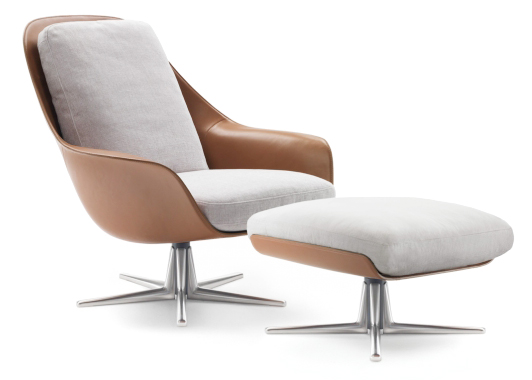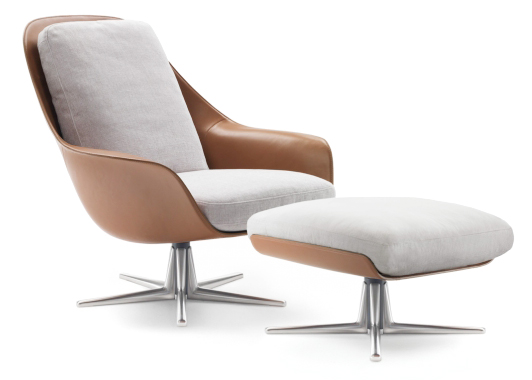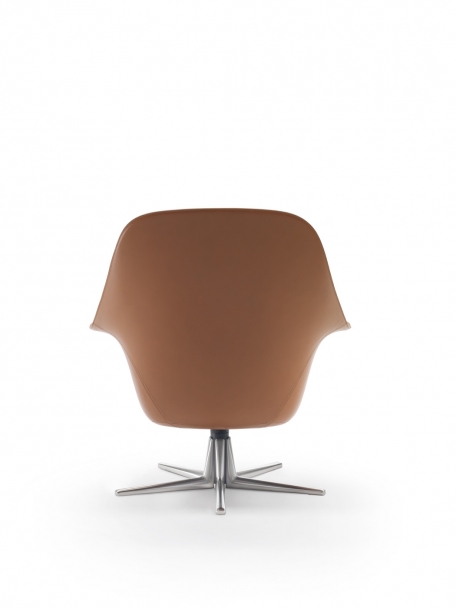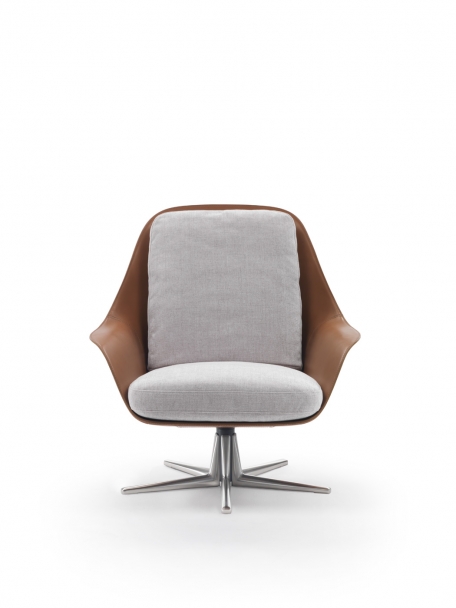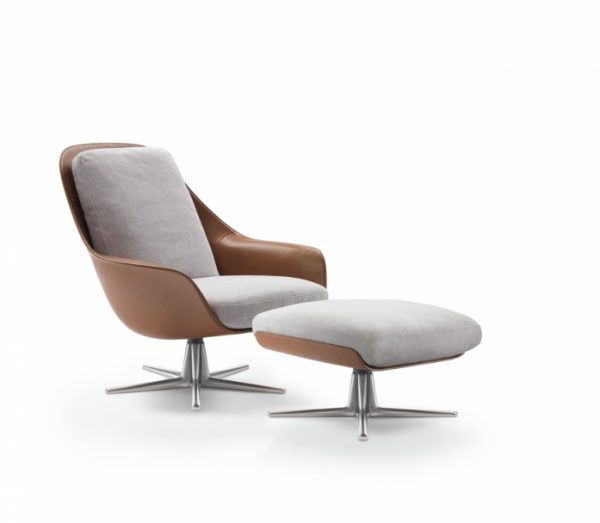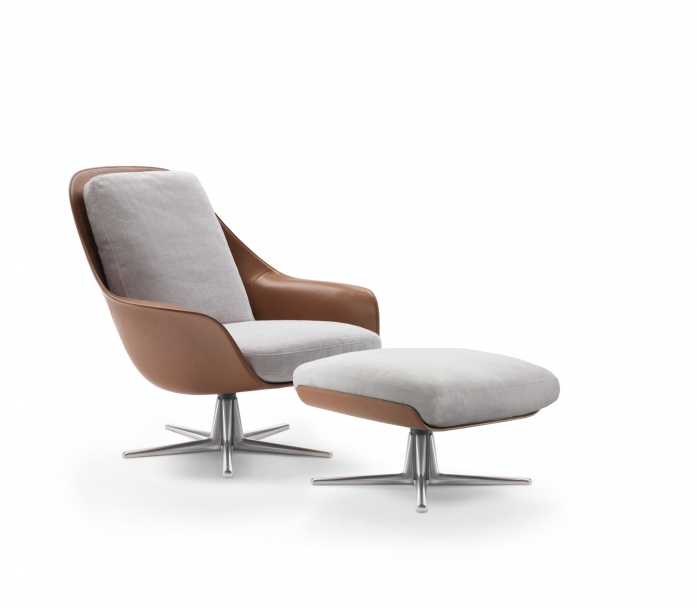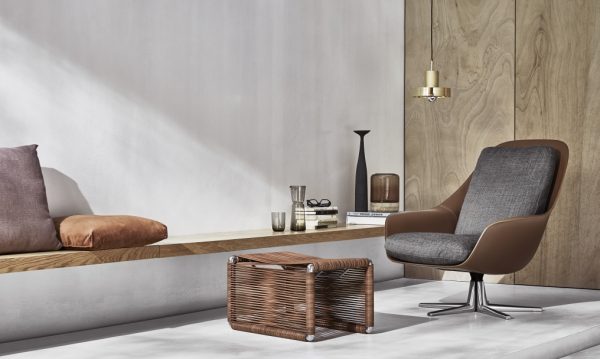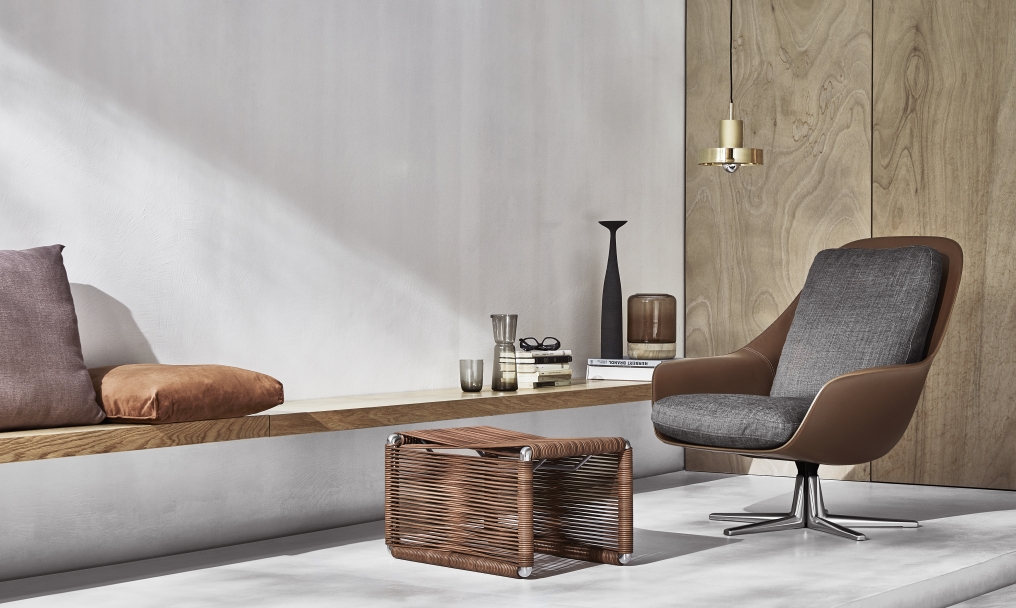 Sveva hægindastóll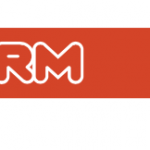 Vantar þig aðstoð eða ráðleggingar?
The sophisticated silhouette of the Sveva armchair reveals its unmistakable personality while silently telegraphing its generously welcoming appeal. A shapely shell made of rigid structural polyurethane and then upholstered in saddle hide accommodates the soft, goose down filled seat and seat back cushions. The cast aluminum swivel base comes in versions with four or five spokes, the latter specifically designed to meet the needs of the contract market. Finish options for the support base are: satin, chromed, burnished, black chromed and champagne finished metal. Between the saddle hide shell - available in nine colors - and the cushion upholstery options, that can be created in all the exclusive Flexform collection of fabrics and leathers, countless combinations are possible. The Sveva armchair can be paired with its own namesake ottoman. The design of the base also inspired a series of occasional tables in various sizes and in a number of finishes, including sumptuous wood, exquisite lacquer and luxurious marble. With its sophisticated yet uncomplicated lines, the Sveva armchair is a perfect match with all the sofas in the collection and is confidently at home in both residential and hospitality interiors.
Carlo Colombo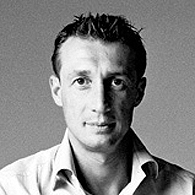 Carlo Colombo was born in 1967 at Carimate. In 1993 he graduated in Architecture from the Milan Polytechnic, but by 1991 he had already made contact with Giulio Cappellini, for whom he designed his first piece in 1992: the Kyoto bed, presented at the Salone del Mobile in Milan the same year. From this time on Colombo's work as a designer flowed into hundreds of projects in collaboration with the leading firms in the sector: Antonio Lupi, Arflex, Artemide, BYografia, Cappellini, DePadova, Emmemobili, EMU, F.lli Guzzini, Flou, Franke, Fusital, iGuzzini, IOC, Paola Lenti, Levi's, Mood-Flexform, Moroso, Nube, Oluce, Penta, Poliform, Poltrona Frau, Riva 1920, Rugiano, Sabattini, Serralunga, Tecno, Teuco, Varenna, Zanotta. In 2004 Colombo was named Designer of the Year in Tokyo. Between 2005 and 2011 he received the International Design Award four times from Elle Décor and he has won prizes for his projects from Gioia Casa and MD Magazine. In 2009 he was one of the winners of the Good Design Award presented by the European Center for Architecture Art Design and Urban Studies and The Chicago Athenaeum. A sort of ambassador of Italian design to the world, he gives lectures and conferences in Israel, Greece, Portugal, Slovenia, Ukraine, Australia, Russia, Britain, Brazil and China. Apart from product and furniture design, Colombo undertakes business and marketing promotion for companies, works on graphic design, curates exhibitions, works as consultant and art director (since 2006 and for Arflex and since 2008 for Stratex). Entrepreneurs were among the first clients for the houses he designed, but they soon commissioned showrooms, sales outlets and production facilities, like the Poliform Lab opened in 2011 in the heart of Brianza. Colombo's work as a designer, initially focused on product and interior design, has been progressively extended to the construction sector in Italy and abroad. In 2009 he won an international competition for the design of two multi-functional towers in Abu Dhabi and his renewed interest in architecture has found scope in teaching in China, where he has lectured on design since 2011 at the De Tao Masters Academy in Beijing.